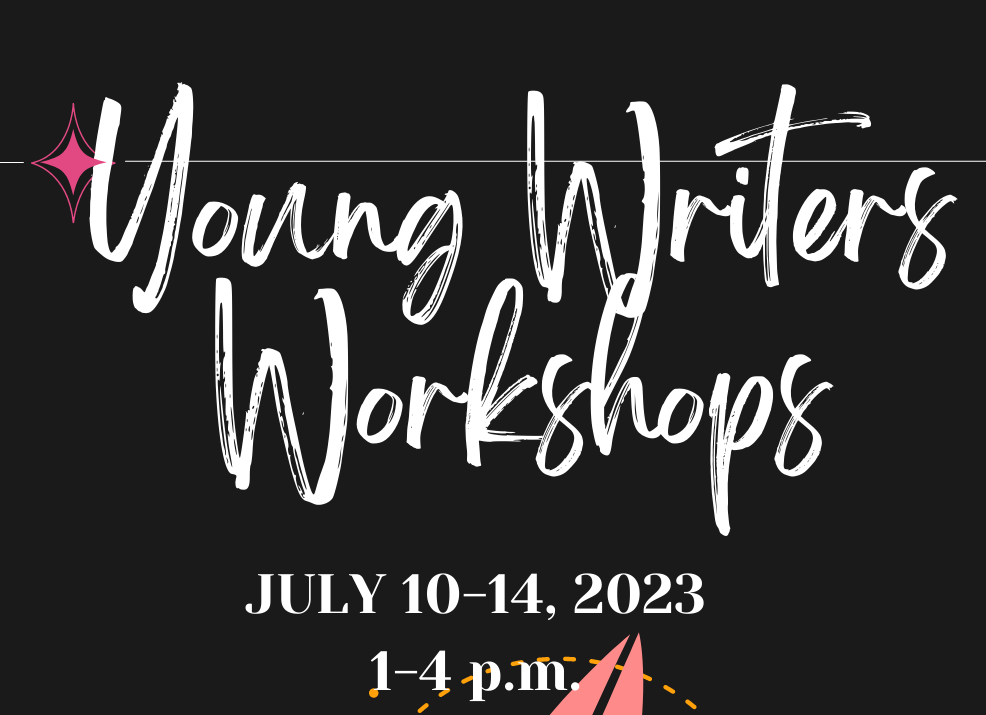 Young Writers Workshops
July 10-14, 2023
West Plains Council on the Arts (WPCA) will host summertime writing workshops for local and visiting youth this summer in the Community Room at the West Plains Public Library, 750 W. Broadway, in West Plains. WPCA is sponsoring this program in partnership with the Missouri Humanities and with support from the Missouri Humanities Trust Fund.
The program will span July 10th-14th and will consist of five 3-hour sessions from 1-4 PM each day. Monday through Thursday will be geared towards 9 to 14-year-olds, and Friday's target audience will be 15 to 18-year-olds.
Monday's topic, Poetry, will be conducted by Dave Malone, a poet, filmmaker, and educator from the Missouri Ozarks. He received an undergraduate degree from Ottawa University and later a master's from Indiana State, where he worked with poet Matthew Brennan. During his teaching career, Dave taught English composition at Indiana State, Ottawa University-Indiana, and Missouri State University-West Plains. He is the author of eight books of poetry, and his next book, Bypass (Aldrich Press), will be released in September of 2023. His poems have appeared in numerous journals including Elder Mountain: A Journal of Ozarks Studies, Midwest Review, Plainsongs, and San Pedro River Review. His poem "Spring Dress" was featured on Michel Martin's NPR program Tell Me More.
Tuesday's session will focus on Fiction and be presented by local author, Annie England Noblin of West Plains. Annie England Noblin has an M.A. in English from Missouri State University and has been teaching English, Writing, and Communications for Arkansas State University in Mountain Home since 2010. She has 7 novels published through HarperCollins Publishers. Her latest, Christmas in Blue Dog Valley, was released in September of 2022.
On Wednesday, Abby Hess will present Journalism to attendees. Abby Hess, whose first paid role in the news industry was as an assistant online news editor for the Emporia (Kansas) State University News Bulletin, began her career at the West Plains Daily Quill in January 2015. As managing editor, Abby works directly with reporters and the community to facilitate local news coverage, which includes writing her own contributions to the paper. She has written and edited for several independent publications and freelanced under both roles before joining the newsroom at the Quill.
Thursday's offering will be Non-Fiction; Dr. Brooks Blevins will be the presenter. After brief teaching appointments at the Meridian campus of Mississippi State University and Ozarka College, Dr. Brooks Blevins returned to his undergraduate alma mater, Lyon College, initially as director of the Regional Studies Center and later as an assistant professor of history. In 2008, he came to Missouri State as the university's first Noel Boyd Professor of Ozarks Studies. Building on a long tradition of leadership in the academic study of the Ozarks region, Missouri State created the Noel Boyd Professorship to develop and teach a multidisciplinary array of courses. As the Noel Boyd Professor of Ozarks Studies, Blevins shepherded the Minor in Ozarks Studies into creation in 2010, chairs the university committee that oversees the minor, and teaches the minor's two core courses.
Though Blevins came to Missouri State as a multidisciplinary expert on all things Ozarks, he is a respected scholar with a broad range of interests extending from the history of American higher education to agriculture, religion, and society in the U.S. South. He has written seven books and edited or co-edited two additional volumes. In addition to these works, he serves as the editor of the University of Arkansas Press's Chronicles of the Ozarks Series and Ozarks Studies Series. Blevins also produced and co-wrote the liner notes for two collections of recordings of traditional Ozarks music: Sounds of the Ozark Folk: The 1963 Arkansas Folk Festival and Sounds of the Ozark Folk, Volume II: Middle Americana. Blevins currently serves on the editorial boards of the Arkansas Historical Quarterly and the Missouri Historical Review, co-hosts regional history and culture segments on Ozark Highlands Radio, and chairs the Ozark Folk Cultural Center Commission, which oversees Arkansas's Ozark Folk Center State Park.
Friday will be a two-part session that covers scholarship applications and resume writing. Leigh Adams from MSU-WP and Taj Singh from South Central Career Center will present information to attendees. Adams currently serves as the Dean of Academic Affairs, in addition to serving as Interim Associate Dean of Arts, Letters, and Natural Sciences and is an Associate Professor of English.
Originally from the United Kingdom, Singh came to the U.S. in 2017 and became a citizen in 2021. His U.K. background was that of an Operations Manager for a large Bus Company, starting as a driver and then progressed to be Depot Clerk – Depot Supervisor – Depot Manager and then Operations Manager. Singh gained his teaching degree (back in England they refer to them as certificates) and was approved by the Department Of Transport to teach Health & Safety, Disability Awareness and Customer Service.
Singh's first job in the USA was working for Workforce Development assisting people looking for work and training them in online applications, interview skills and resume writing in addition to assisting them applying for tuition funding from programs such as WIOA and Skill Up.
Singh's current role is that of Financial Aid Coordinator at South Central Career Center. He assists students with their Financial Aid and refers them to partner agencies if they would benefit from extra resources. Singh is a member of MASFAP which is The Missouri Association Of Student Financial Aid Personnel and has served on many committees.
Attendees will have the opportunity to put their newfound knowledge to work in the form of a session-specific project at the end of each day's offering. Students can attend one, some, or all sessions geared towards their age group. Cost of the workshops will be $10 per student per day for the Monday-Thursday sessions, or $35 for all four days. Friday's program on scholarship prep and/or resume writing will be available at $15 per person.
To sign up, please visit the Eventbrite page "Young Writers Workshop" or call Paula at 417-293-2325. For more information email info@westplainsarts.org