Beatlemania Exhibit to be Featured
at the Gallery at the Center
West Plains Council on the Arts, in support of the Ozarks Beatlemania Festival, invites everyone to view a unique collection of photos and other memorabilia commemorating the 50th Anniversary of the Beatles weekend stay at Pigman Ranch on the banks of the Eleven Point River near Alton in the Missouri Ozarks. The exhibit will be featured at the Gallery at the Center, West Plains Civic Center from August 1 through September 12, 2014.  The Gallery, on the mezzanine, is open to the public during regular Civic Center hours.
The Alton Community Foundation, an affiliate of Community Foundation of the Ozarks, has collected and catalogued a unique display which celebrates the anniversary of the Beatles' 1964 visit. The official website http://ozarksbeatlemania.com/ states: "Res­i­dents of the Mis­souri Ozarks, Ore­gon County, the sur­round­ing towns, and espe­cially the River­ton com­mu­nity, have regaled oth­ers with sto­ries of Pig­man Ranch and its rich and col­or­ful his­tory for many decades, includ­ing the unex­pected visit of the Bea­t­les for a leisurely week­end on Sep­tem­ber 18–20, 1964. Reed Pig­man, through his char­ter air­line, Amer­i­can Fly­ers, con­tracted to fly the Bea­t­les to their con­cert des­ti­na­tions dur­ing their U.S. tour in 1964.  After their Dal­las con­cert, the Fab Four and entourage had a 3 day break before fly­ing to New York City, the last stop on their tour.  Brian Epstein, Bea­t­les man­ager, took Pig­man up on offer of a quiet, leisurely week­end on the ranch in the Mis­souri Ozarks.  No instru­ments, no music, no scream­ing fans (well, that didn't work out so well) just horse­back rid­ing, fish­ing, swim­ming, rest, and relaxation."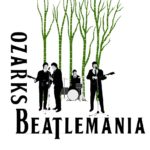 The exhibit will be on display until the Liverpool Legends Concert at the West Plains Civic Center at 7:00 p.m. on Friday, September 12.  The 2012 Grammy nominee Liverpool Legends Tribute Band, hand-picked by Louise Harrison, sister of the late Beatle George Harrison, performs songs spanning the entire career of the Beatles and on through their solo years.  With precise attention to instruments and special effects, the Liverpool Legends make you feel like you are back in the 60's at the real thing!
The Liverpool Legends have played all over the world and in historic places such as Carnegie Hall and the Cavern Club in Liverpool, made famous by the Beatles. The Tribute Band now a rock and roll staple of Branson, has appeared on the Travel Channel's "Beatlemania Britain" and headlined "International Beatles' Week" in Liverpool where 100,000 Beatles fans jammed Victoria Street to hear them in concert.  Liverpool Legends general admission tickets can be purchased at the West Plains Civic Center (417-256-6123), The Train 100.9 (417-264-7211) or at www.ticketmaster.com