SOLE CAFÉ AT THE GRIZZLY LOFTS
HOSTING ART EXHIBITS IN 2020
WEST PLAINS, MO – The West Plains Council on the Arts (WPCA) and Sole Café at the Grizzly Lofts have partnered to bring two art displays to the Sole throughout 2020. Local artists' work will be featured inside Sole's main dining room February 13 through May 15, 2020.
The work of four artists, members of the West Plains Artist's Guild, will be featured in this first exhibit, which will be available for viewing during normal dining hours, Monday-Friday. Janey Hale, Joyce Stewart, Cindy Temple, and Regina Willard will showcase some specially chosen pieces.
Janey Hale
Hale's desire to create began when as a young child a women's group brought an exhibition of old master's paintings to her hometown of Hope, Arkansas.  Teaching art for over twenty years, she is now focusing on painting full time. Janey has been in a number of juried and non-juried shows.  Her work has been purchased by businesses and people in both Arkansas and Missouri.
Hale has benefitted from working with local artists and attending workshops of noted artists.   Hale says, "Creating art is a means by which I record both emotional and visual experiences.  The interaction of color, light and textures in combination with mark making appeals to my own aesthetic, which I hope gives something to the viewer."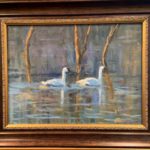 Hale has been a collage artist and has begun transitioning to painting her subjects representationally, dividing her time between the studio and plein air painting.  She considers her style to be impressionistic and enjoys capturing her impressions of the world around her.
Joyce Stewart
Stewart says she can barely remember a time in her life that she didn't aspire to be an artist. She drew with whatever she had, on any surface that was available (margins of schoolbooks are not a good choice). Her high school art teacher inspired her to paint and draw from life whenever possible. Through the years she experimented with many different mediums – acrylics, watercolor, pastels, oil pastel, and charcoal. Four years ago, she attended a workshop using oil paints and felt like she had finally found herself. Stewart continues to expand her skills by attending workshops with other local artists, reads art books and views original art whenever and wherever it is available. Stewart has also worked online with artists Laura Robb, Phil Starke and more. Stewart's work has been featured in local and regional shows and is in private collections in Missouri, Arkansas and New Mexico.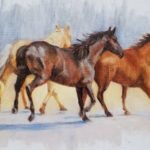 "I have a driving need to create, and if I look a little distracted sometimes, it is probably because I am painting in my head, working out a solution to a painting problem, looking for the turn of a shadow on a face or just feeling the awe and the magnitude of the natural world around me," Stewart said. "I love the feel of the paint moving across the canvas to give an impression of what I am seeing and feeling at the time. I especially like to do paintings that tell a bit of the story of the place or objects. I have always admired the work of the impressionists but tend to work in a more representational style. Becoming an artist is not a destination but a wonderful, fulfilling (and sometimes frustrating) journey!"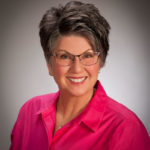 Cindy Temple
Five years ago, Temple felt God lead her back to her original passion — art. As a little girl, growing up in Kansas City, Temple's favorite pastime was riding a city bus down to Nelson-Atkins Museum of Art, where she would spend hours. She was intrigued by the beauty of the art and her imagination would run wild. She especially liked the portrait room, where she would sit in the middle of the room and invent her own story about each face.
Like most artists, as a child Temple's gifts of choice were crayons, pencils, paint, and paper. She would draw on anything and enrolled in every art class offered in high school. Temple continued as a self-taught artist throughout periods of her adult life, and mostly learned from books. Eventually, she took drawing classes from Audrey Bottrell and painting classes from Regina Willard. As her passion and skill grew, she found other professional artists she admired; and through classes studied with Derek Penix, Michael McClure, Kevin Beilfus, Anne Blair Brown, and Chantel Barber. Oil is her medium of choice and she is inspired by things she loves the most: family,  friends, people, and nature. Temple prefers to paint people or animals– things with eyes or a mother, she likes to say.  Her works have been exhibited in juried and non-juried shows in the area, winning several awards.
"I'm actively seeking to do better and learn new skills," says Temple. "I enjoy painting, sharing ideas, and learning with other artists in our local art groups. Being a self-taught artist and learning as I go, breaking rules didn't seem to matter and has given me freedom to find my own style. Honestly, I believe all artists, educated or not, are all self-taught. We retain and choose what we want to learn. Subsequently, we go with our gut and what moves and stirs our souls."
Regina Willard
Willard's desire and passion for painting started at an early age. Largely a self-taught artist, she gained knowledge of oil painting in her teen years and immediately fell in love with the medium. Painting for her is a release of a language spoken with a brush.  Her paintings are sparked  by familiar surroundings – subjects she enjoys observing. Regina has benefited from workshops taught by renowned artists she admired: Carolyn Anderson, Lori Putnam, Derek Penix, Kevin Beilfuss, and most recently Anne Blair Brown. She has translated their knowledge into developing her own voice creating a language of her own into the canvas. Her style would be  considered impressionistic with emphasis on brushwork and color.
Willard says, "When I paint, I want to give something of myself – whether it be an emotion or feeling by way of a color or a mark made. I'm most intrigued by movement of paint and how a mark laying next to another in a different direction can give a subject life, drawing the viewer to engage in my work".  Willard's work has been exhibited in numerous juried and non-juried shows in the Ozarks winning multiple awards including Best of Show. She teaches workshops on oil painting techniques throughout the year. More of her work is available on her website https://reginawillard.com
"Members of the  West Plains Artist's Guild will be the first featured at Sole Café at the Grizzly Lofts beginning February 14, 2020," says WPCA administrator Paula Speraneo. "Each artist has been asked to bring a selection of work that best represents their own aesthetic, and we're excited to have this opportunity to view more of their works."
A Meet-the-Artist event was  held on Monday, February 24, from 2-4 p.m. at Sole Café, 665 Missouri Avenue, in West Plains. The public is invited to attend, meet the artists, and view and discuss pieces on display. Here are a few photos from that day:
For more information about the exhibit, WPCA Coordinator Janey Hale at jhale2129@gmail.com