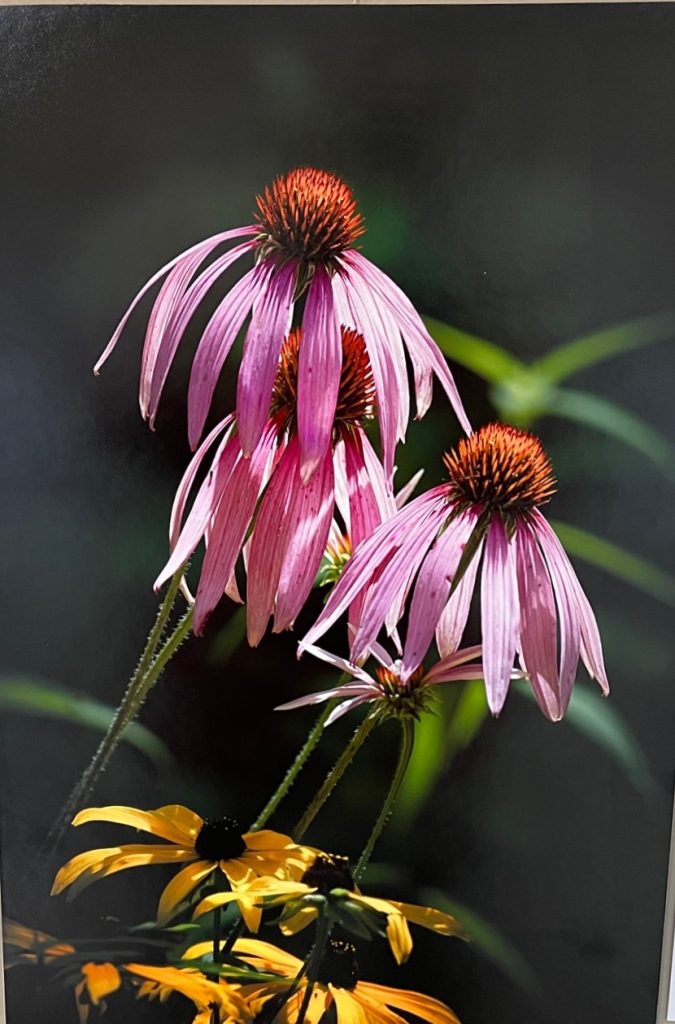 Photo courtesy of Bob Cunningham
West Plains Council on the Arts (WPCA) will host an exhibition of works by fourteen area artists in the Gallery at the Center, West Plains Civic Center from April 15 through May 20, 2023. The Gallery, on the mezzanine, is open to the public during regular Civic Center hours.
The West Plains Photography Club, which was unable to meet for three years because of the Covid pandemic, has enjoyed a rebirth beginning in January of this year. The club currently has 34 members and meetings are at 6:30 p.m. the second Monday of each month in the Missouri State University-West Plains Creative Discovery Center, 411 West Main Street, Suite 1. Everyone regardless of age or ability is invited to join the club which has no membership dues.
The purpose of the club is to share and support everyone's passion for photography arts whether they are a beginner or have been engaged in photography for many years. Present members include some who do not even own a camera to professionals who make a living by selling their art. For more information on the club feel free to call Bob Cunningham at 417-257-8206 or Dennis Crider at 417-274-7101.
"The exhibit this spring should appeal to a wide range of viewers. You will see precision lighting in-studio portraits, amazing wildlife, beautiful scenics, still life and close-up macro subjects.," Crider says.
A virtual slide show of the exhibit is available here.
Featured artists include:
"I have been a photographer for twenty years. My goal from the beginning has been to show others the wonderful creation that God has gifted us with. As I travel, I can't help but think about how many people never even stop to see what's around them in their daily travels. I want to share with others all that I see. God gave us beauty for everyday of our lives, so I feel why only stare at asphalt.
I started my business to share with the world. My goal is some day to have taken photographs in all 50 states. Every state holds some secret treasure. Our country has some of the most diverse landscapes in the world, and few of us ever get to experience them all. Through my photographs I hope to share a piece of each of my experiences with others."
"I am Anna Fokina-Bolhis. My little Kodak camera got stolen from my husband's car at work, so about a year later we bought our first DSLR camera. That was twelve years ago. Not knowing anything about photography I dove straight into learning all aspects of portrait photography using YouTube and the internet. It was a great hobby for me to pick up as I stayed home with my kids, which gave me a creative outlet from the daily routine. For a little bit I started doing family portraits professionally but had to stop doing that to concentrate on caring for our growing family, which now has seven kids. Photography has become our "family hobby," as almost every child has their moment in wanting to photograph a project, event, or a moment. Recently I have taught a high school course of photography at our local homeschool co-op. It was a great hit. The work of my students got displayed at West Plains Public Library and had a great response rate and interest. I got to do many interesting projects and meet many interesting people, due to my hobby. I am excited to see where photography will take me in the future."
Marc Brannan
Marc Brannan grew up on the family farm near Willow Springs, MO., and currently lives and works in West Plains, MO. He started playing with cameras and taking pictures at a very young age. He loved playing in the old barn and enjoyed being outdoors as much as possible surrounded by nature. His parents nurtured his desire to travel and see new places. His dad encouraged him to learn and enjoy history, especially the history of his family and where they came from.
"I bought my first digital camera in the early 2000's, and it allowed me to slowly learn the craft of digital photography. In the last two years, I have really gotten more in depth, using a newer digital camera, and working hard to learn more camera techniques. I have focused more on bringing the art out in my pictures, taking a simple pic, and showing the viewer that there is so much more around us then we typically take time to see. I have found the best teacher is just going out and doing it – trying different shots, compositions, angles, lighting, and just seeing first- hand what works.
My pieces show the continued efforts I put into traveling to these places and doing my best to preserve their spirit by bringing them to life in various creative ways. To give life back to a historical place is one of the greatest gifts we can give to others."
Photography has been a constant source of challenges for Dennis Crider beginning at the age of 4 when he picked up a Kodak Brownie box camera and started clicking the shutter. That passion began to gain momentum when he was a sophomore in high school in his hometown of Wichita, Kansas. That year he received an Ansco camera for Christmas and began an interest in sports photography. Two of his images of wrestling action made it into the West High School yearbook. The next year he was assistant photographer at a new school, Wichita High School South. He was head photographer at South his senior year, then was head photographer at Oklahoma Christian College in Oklahoma City the next four years.
Following a brief stint as owner of a photo studio in Edmond, Oklahoma he moved to West Plains in 1969 then spent the next 39 years as reporter/photographer/sports editor at The Daily Quill Newspaper. Since retirement in 2008 he aims his camera at things that don't talk back. Wildlife, nature, scenic and still life are among his favorites as well as following Cowboy Rick Hamby's stagecoach on its travels.
Images in this display include a 40×12-inch shot of the stagecoach rolling through the Glade Top Trail in Ozark County last year; a 24×18-inch black and white image of a blurry-on-purpose horse running at dusk; an 18×24-inch black and white photo of a bison taken at Yellowstone National Park; a 24×18-inch image of cowboys approaching an area called Devil's Gap in northwest Oklahoma (ruts shown in this image were made by the 7th Cavalry led by Lt. Col. George Armstrong Custer beginning in 1868); and a 24×18 shot of a bison braving snow and ice in the Black Hills of South Dakota.
Cunningham is a life-long Missourian who has lived primarily in the Ozarks. He developed an interest in photography after completing a photo-journalism class at the University of Missouri–Columbia in the early 1970s. Cunningham graduated from the University of Missouri in 1976 with a B.S. in Forest Management, and has resided in West Plains, Missouri since 1988.
Cunningham retired in 2010 after 34 years of service with the Missouri Department of Conservation working as a professional forester, and since that time has owned and operated a forest and wildlife management consulting business, plus freelance outdoor photography. His photographic works have appeared in books, videos, and other publications. His wildlife, nature, and landscape images have been captured from the South Pacific, Central America, Caribbean countries, and throughout all North America.
Artist Statement – "My photography goal is to create artistic images worthy of a lengthy view. Otherwise, the picture is merely a snapshot."
Rachel is a local nature photographer and avid birder that lives in Oregon County Missouri. Her photographic journey began in earnest back in early 2020, when she pressed pause on a career as a food safety auditor and consultant to spend more time at home with her six children and assist in their family ranching operation during the pandemic. She hopes to capture images that inspire people to explore and appreciate the natural beauty of the Ozarks and to conserve and protect ecologically sensitive spaces for future generations.
Justin Lowe was born and raised in the Ozarks. From an early age, he demonstrated a propensity for creativity. His first creative endeavor was music. During his high school years, Justin's passion for music propelled him to All-State Band and Choir. He then moved on to study music at the university level performing in venues such as Carnegie Hall in New York City.
While Justin still enjoys creating music, he has found another creative avenue to pursue – photography. Justin purchased his first DSLR camera in 2020. He thought he was buying a camera to capture video of worship at his church, New Hope Baptist Church in Peace Valley, where he is blessed to serve as pastor. But, when Justin started learning the camera settings to make creative compositions, he quickly discovered a passion for nature photography. Now, in Justin's spare time, you will often find him with a camera in hand practicing the art of capturing images of God's creation. While he has only been learning photography for a short time, Justin has already had photos published in the news media.
A native of the area, Samantha Hawkins McFarland moved back to the Ozarks to raise a family and further her education. She has practiced photography since childhood, and describes her photos as attempts to capture a feeling or a fleeting moment in time. She also enjoys shooting images that represent her heritage.
Ralph Moore is retired from Viola Public School, where he was a teacher and counselor for many years. After retirement he became interested in photography. Today, he travels far and wide searching for interesting subjects in perfect light. His favorite subjects are landscapes, animals, travel, night photography, birds, flowers, micro, and sunrise/sunsets. Really just about anything except people!
"I started photographing when I was 17 after my brother gave me his old half-frame Yashica camera. I loved the idea of capturing a moment in time and being able to freeze a memory. Moving to West Plains in 1996 and seeing the Ozarks ignited a love of nature and landscape photography as well as appreciating the beauty of nature's color alongside old buildings and land that probably looks the same as it did over a hundred years ago. I see pictures everywhere and find that it's the ones I don't take that haunt me."
Tammy (Gunter) Schulz was raised in West Plains, Missouri and is a West Plains High School Graduate. Tammy currently resides in Mountain View, MO with her husband Ricky. She has a degree in Advertising Design and her ability to compose an image stems from that design training. She's had a camera in her hand since she was 10 years old and sold seeds to her neighbors and relatives to earn her first camera. She didn't delve into 35 mm photography until 1999 when she wanted better photographs of her daughter's dance performances. For years her favorite photography subject was her daughter, especially when she was dancing. She ventured into digital photography with her first DSLR in the early 2000's with a Sony a100. She currently shoots with her fourth Sony and recently upgraded to the full frame Sony a7 III Mirrorless Camera.
Tammy's photography was first published in an issue of Country Lifestyle magazine in 2008. Her photo was a Christmas lights photo taken during a Christmas festival in San Marcos, Texas. Tammy has no formal training in photography and continues to learn and practice to perfect her craft. She learns from other photographers, researching online, and practicing what she's learned. She loves to capture old churches, mills and schools and prefers candid shots of people over formal poses. She particularly loves to capture scenes she later turns into paintings. "Art is feeling more than seeing."
From taking pictures as a young girl to shooting professionally since 2008, Gina Stone has made photography a job that she truly loves. She enjoys making beautiful memories for family and friends, but especially photographing life's special moments such as newborn/children's photos, senior pictures, weddings, or even your best furry friend. In her spare time, she shoots the occasional wildflower, countryside, old barn, or really all the above. Gina Stone Photography is located on West 8th Street in West Plains.
Carr "Chad" Ward was raised in West Plains, MO, graduated from West Plains High, then joined the US Navy traveling the Asia Pacific. After serving in the Navy, he traveled the country with Bechtel from 2005 to 2018 before settling back down in his hometown of West Plains.
Carr has always loved the outdoors and art. He began his photography journey as a boy, playing with various film cameras and became serious about his pursuit in the summer of 2010. Upon moving back, Carr set out to photograph the Ozarks like no one has before, often visiting places most have never seen or knew existed. Carr uses his photography to showcase the beauty and diversity of the Ozarks. His passion is shown in each photograph he captures. With each photograph he hopes to capture the natural elements in a way that the viewer is drawn in to feel as if they are there.
Carr has dedicated himself to the craft of photography, often traveling many miles just to capture a scene under the right light. Planning, scouting, traveling, and hiking are all elements that are combined with a deep passion to capture the beautiful scenery in the Ozarks. Every photo is a labor of love and enjoyment. Carr wants to accomplish two things with his photography, to glorify his Creator and to be a blessing to the viewer.
"I started taking pictures back in the 1970s with a little 35mm camera. I really enjoyed driving around Cleveland, OH, and getting black and white shots of the city and its surroundings. But life happens, and the camera was put away decades ago. A couple years ago I was getting frustrated with the quality of my cell phone photos and got my first "real" camera. Three years, three cameras, and multiple photography accouterments later, I now spend just about every free moment either taking pictures, editing pictures, or learning about taking and editing pictures. I like all kinds of photography, but I particularly enjoy taking pictures of plants and insects, macro photography, and pet portraiture."
WPCA will host a Meet the Artists event on Saturday, April 22, from 2-4 p.m., in the Gallery at the Center. All are invited to attend, meet the artists, and discuss the pieces. The exhibit is co-sponsored by the West Plains Civic Center and West Plains Council on the Arts, with partial funding provided by Missouri Arts Council, a state agency.