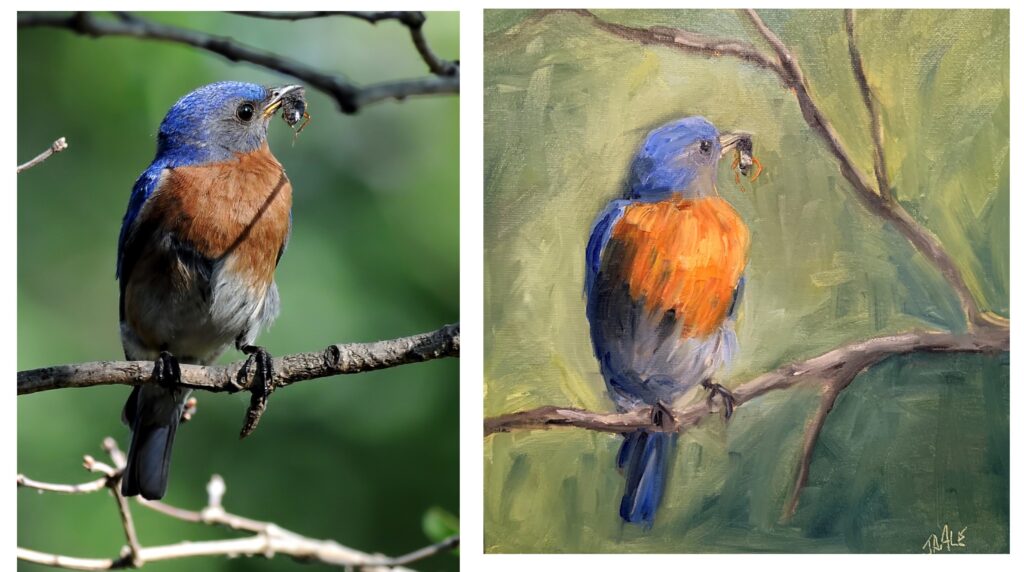 "LOOK TWICE" EXHIBIT
FEATURES WORKS OF DENNIS CRIDER AND JANEY HALE
West Plains Council on the Arts (WPCA) will host an exhibition of works by local artists Dennis Crider and Janey Hale, entitled "Look Twice." The exhibit will be displayed at the Gallery at the Center, West Plains Civic Center from January 11 through February 14, 2021. The pieces will highlight the Ozarks – the photos of Dennis Crider, beside the matching artwork of Janey Hale.  The Gallery, on the mezzanine, is open to the public during regular Civic Center hours.
"Being able to create paintings from Dennis Crider's photographs has been inspiring. An artist can't always paint on location. Dennis is very generous to allow the use of his photos for painting subjects," says Hale.
Crider says, "It is always an honor for me to be included in an artistic
endeavor such as this and it is especially nice to be working with such a talented artist, Janey Hale. I love for artists to recreate my images on their canvases and that is just what we have here. So come on out and LOOK TWICE. I hope you like what you see."
About the artists:
Dennis Crider – West Plains, Missouri photographer Dennis Crider took his first picture at the age of 4 during a family vacation at Yellowstone National Park. It was a shot of Old Faithful blowing its top and that photo was recently found among thousands of family photographs.
Hailing from Wichita, Kansas, Dennis was yearbook and newspaper photographer in high school and college and learned much of his trade while working for a film processing plant in Wichita during summer months. In 1969 he became a reporter/photographer at the West Plains Daily Quill newspaper. By the time he retired in 2008 he was head photographer and sports editor.
Since retirement he has been busy photographing things that don't talk back and selling photos at art shows in Missouri, Kansas, Arkansas and Oklahoma. His favorite subjects are wildlife, nature, scenic, landscapes and the cowboy way. He also recently co-authored a coffee table book "Last Stage to Matador" with Rick and Beverly Hamby, and future plans include another book of a stagecoach journey through Palo Duro Canyon in the panhandle of Texas. That adventure will be in May this year.
Janey Hale –Hale's desire to create began when as a young child a women's group brought an exhibition of old master's paintings to her hometown of Hope, Arkansas. Teaching art for over twenty years, she is now focusing on painting full time. Janey has been in a number of juried and non-juried shows. Her work has been purchased by businesses and people in both Arkansas and Missouri.
Janey has benefitted from working with local artists and attending workshops of noted artists. Hale says, "Creating art is a means by which I record both emotional and visual experiences. The interaction of color, light and textures in combination with mark making appeals to my own aesthetic, which I hope gives something to the viewer."
Hale has been a collage artist and has begun transitioning to painting her subjects representationally, dividing her time between the studio and plein air painting. She considers her style to be impressionistic and enjoys capturing her impressions of the world around her.
WPCA will host a Meet the Artist event on Saturday, February 6, from 2-4 p.m., in the Gallery at the Center. All are invited to attend, meet the artists, and discuss the pieces.  The exhibit is co-sponsored by the West Plains Civic Center and West Plains Council on the Arts, with partial funding provided by Missouri Arts Council, a state agency.
Virtual presentation of this exhibit is available here.