"FALL INTO WINTER"   
FEATURES ARTWORK OF CINDY TEMPLE
West Plains Council on the Arts (WPCA) will host an exhibition of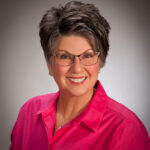 works by local artist Cindy Temple, entitled "Fall Into Winter." The exhibit will be displayed at the Gallery at the Center, West Plains Civic Center from November 16 through December 20, 2020, and will also feature many of Temple's Santas.  The Gallery, on the mezzanine, is open to the public during regular Civic Center hours.
Here's a virtual tour of her exhibit.
Temple says, "I love Fall and Christmas time! I wanted this art show to reflect the things I love and my personality. Colorful, warm, fun, whimsical, and a little bit unexpected!" 
Temple began painting seriously and with a vengeance out of desperation. Five years ago, her mother passed, her grandchildren were both in school, she had a foot injury, and the house felt empty. She found her mind wandering and the need to be viable was overwhelming. Temple felt God lead her back to her original passion — art.
As a little girl, growing up in Kansas City, Temple's favorite pastime was riding a city bus down to Nelson-Atkins Museum of Art, where she would spend hours. She was intrigued by the beauty of the art and her imagination would run wild. She especially liked the portrait room, where she would sit in the middle of the room and invent her own story about each face.
Like most artists, as a child Temple's gifts of choice were crayons, pencils, paint, and paper. She would draw on anything and enrolled in every art class offered in high school.
Temple continued as a self-taught artist throughout periods of her adult life, and mostly learned from books. Eventually, she took drawing classes from Audrey Bottrell and painting classes from Regina Willard. As her passion and skill grew, she found other professional artists she admired; and through classes studied with Derek Penix, Michael McClure, Kevin Beilfus, Anne Blair Brown, and Chantel Barber. Oil is her medium of choice and she is inspired by things she loves the most: family,  friends, people, and nature. Temple prefers to paint people or animals– things with eyes or a mother, she likes to say.  Her works have been exhibited in juried and non-juried shows in the area, winning several awards.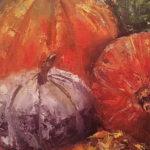 "I'm actively seeking to do better and learn new skills," says Temple. "I enjoy painting, sharing ideas, and learning with other artists in our local art groups. Being a self-taught artist and learning as I go, breaking rules doesn't seem to matter and has given me freedom to find my own style. Honestly, I believe all artists, educated or not, are all self-taught. We retain and choose what we want to learn. Subsequently, we go with our gut and what moves and stirs our souls."
A virtual slideshow will be uploaded as soon as available to feature the artwork in this exhibit.
WPCA will host a Meet the Artist event on Saturday, December 5, from 2-4 p.m., in the Gallery at the Center. All are invited to attend, meet the artist, and discuss the pieces.  The exhibit is co-sponsored by the West Plains Civic Center and West Plains Council on the Arts, with partial funding provided by Missouri Arts Council, a state agency.