"WINDS OF THE SOUTHWEST"
JOYCE FRANCE'S ARTWORK TO BE FEATURED AT GALLERY AT THE CENTER EXHIBIT
West Plains Council on the Arts invites everyone to view the unique artwork of artist Joyce France, in her exhibition titled "Winds of the Southwest" at the Gallery at the Center, West Plains Civic Center from April 21 through May 18, 2014. The Gallery, on the mezzanine, is open to the public during regular Civic Center hours.
France came from Southern California in 1963, and has lived in West Plains ever since. She spent a lot of time in Arizona and found inspiration in the rich colors of the southwestern desert.  Many of her paintings have a southwestern flavor, especially in the choice of colors.  France says, "Using a pallet knife is my very favorite method of getting those vivid colors on canvas."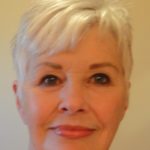 With a lifelong love of photography, France operated Foto's from France photography studio for twelve years in West Plains. "Photography taught me a lot about composition and lighting, and by doing my own printing I learned about color," France said.  She painted a bit in the late 80's and early 90's then set it aside to manage her business, France Fire Extinguisher Company.
France recently started painting again, mostly oils, but loves art of all kinds, including gourd art, which will be represented by several gourd pieces in the exhibit.
"I first saw gourd art in Arizona about 4 years ago and knew immediately this was something I had to try.  The process involves carving, burning, inlay, and beading.  Each gourd is unique in its shape, color, and markings and these features help determine the design I create. With so many shapes available, the possibilities are endless."
WPCA will host a Meet-the-Artist Reception for Joyce France on Saturday, April 26, from 10 am to noon, in the Gallery at the Center. All are invited to attend and take advantage of this opportunity to view and discuss the artwork with France.
The exhibit is co-sponsored by the West Plains Civic Center and West Plains Council on the Arts, with partial funding provided by Missouri Arts Council, a state agency.